Overview:
Every day you're on the lookout for sophisticated attacks designed to penetrate your organization and steal valuable information. At the same time, you need to increase network speeds and capacities to accommodate the proliferation of consumergrade applications and devices. To adequately defend against threats across such a broad range of applications and devices- without slowing down your network- you need a high performance next generation/edge firewall (NGFW) appliance for deep inspection, visibility and control.
Breakthrough Performance
The FortiGate-1500D high performance next generation/edge firewall delivers best in class performance with an exceptional 80 Gbps of firewall and 11 Gbps of next generation threat protection. Custom hardware, including the latest FortiASIC™ NP6 processors, and the consolidated security features of the FortiOS™ 5 network security platform make the difference in enabling protection of your applications and network without affecting availability or performance.
Deeper Visibility
With powerful intrusion prevention, application control and antimalware intelligence, the FortiGate-1500D allows you to look deeper into your content, applications, user and device behavior. Rich console views and reports together with a flexible policy engine provide the visibility and control you need to empower employees yet secure your enterprise.
Next Generation Visibility and Control
Powerful application and threat inspection
Breakthrough performance, and superior cost per gigabit protected
User- and device-based views and policies
Freedom to add more functions like Advanced Threat
Protection and Secure Web Gateway
FortiOS 5, the most complete, battletested set of security functions to protect your network and data
Features & Benefits:
Next Generation Threat Protection – Intrusion prevention, application control and antimalware provide superior visibility and protection over traditional firewalls
High Performance Next Generation Firewall – Up to 11 Gbps IPS performance
Custom FortiASIC NP6 processors – The latest in purpose-built processors enable best in class performance and superior cost per gigabit protected
High Speed, High Density Ports – 8 x 10-GbE and 16 x GbE ports support evolving network requirements and avoid security bottlenecks
Actionable console and reporting – Provides administrators and executives the visibility they need to define and enforce appropriate policies
Custom FortiASIC™ processors deliver the power you need to detect malicious content at multi-Gigabit speeds
Other security technologies cannot protect against today's wide range of content- and connection-based threats because they rely on generalpurpose CPUs, causing a dangerous performance gap
FortiASIC processors provide the performance needed to block emerging threats, meet rigorous thirdparty certifications, and ensure that your network security solution does not become a network bottleneck
Network Processor
Fortinet's new, breakthrough FortiASIC NP6 network processor works inline with FortiOS functions delivering:
Superior firewall performance for IPv4/IPv6, SCTP and multicast traffic with ultralow latency down to 3 microseconds
VPN, CAPWAP and IP tunnel acceleration
Anomaly-based intrusion prevention, checksum offload and packet defragmentation
Traffic shaping and priority queuing
Content Processor
The FortiASIC CP8 content processor works outside of the direct flow of traffic, providing high-speed cryptography and content inspection services including:
Signature-based content inspection acceleration
Encryption and decryption offloading
10GE Connectivity for Core Infrastructure
High speed connectivity is essential for network security segmentation at the core of data networks. The FortiGate-1500D provides high 10GE port densities, simplifying network designs without relying on additional devices to bridge desired connectivity
Highlights
FortiOS — The World's Most Advanced Security Operating System
Feature Select Instantly fine-tunes the FortiGate based on desired deployment needs using feature presets. Simplifies user administration and configurations while providing flexibility for different deployment modes.
Contextual Visibility Presents critical deep insights into historic or real-time network activities with data on threat details, IPs, users, devices, applications and more. Allows administrators to quickly understand threats and stop them.
Advanced Security Multiple advanced technologies can be coordinated to look for and stop today's blended, targeted or unknown attacks. Efficient packet handling improves performance while lowering latencies and reducing network complexities.
Industry Validation
The FortiGate family of physical and virtual appliances has earned more certifications than any other vendor by consistently meeting rigorous third-party standards. Our industry-leading technology provides you with air-tight security which you can safely count on.
More Protection and Better ROI
The FortiGate constantly evolves itself in its mission to provide more value for users. Extended features such as WiFi controller, integrated token server, endpoint control and WAN optimization add more security to organizations without incurring additional cost.
Complete and Real-time Security
Fortinet FortiGuard Subscription Services provide automated, real-time, up-to-date protection against the latest security threats. Our threat research labs are located worldwide, providing 24×7 updates when you most need it.
World-Class Technical Support and Documentation
Fortinet FortiCare support offerings provide comprehensive global support for all Fortinet products and services. You can rest assured your Fortinet security products are performing optimally and protecting your users, applications, and data around the clock.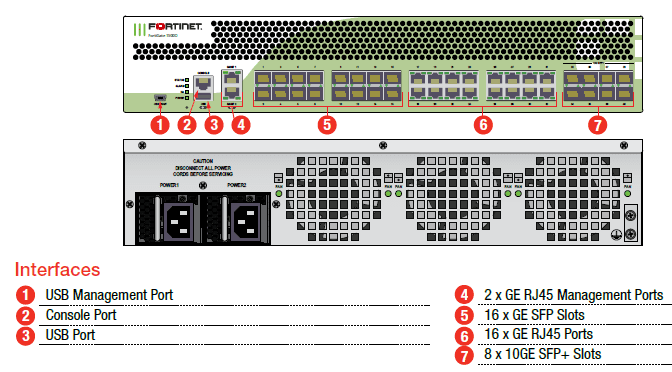 Interfaces & Modules
Hardware Accelerated 10GbE / GbE SFP+ Slots
8
Hardware Accelerated GbE SFP Slots
16
Hardware Accelerated GbE RJ45 Ports
16
GbE RJ45 Management / HA Ports
2
Local Storage
240 GB
USB Ports (Client / Server)
1 / 1
Console Port
1
Onboard Storage
240 GB
System Performance & Capacity
IPv4 Firewall Throughput (1518 / 512 / 64 byte, UDP)
80 / 80 / 55 Gbps
IPv6 Firewall Throughput (1518 / 512 / 86 byte, UDP)
80 / 80 / 55 Gbps
Firewall Latency (64 byte, UDP)
3 μs
Firewall Throughput (Packet per Second)
82.5 Mpps
Concurrent Sessions (TCP)
12 Mil
New Sessions/Sec (TCP)
250,000
Firewall Policies
100,000
IPSec VPN Throughput (512 byte packets)
50 Gbps
Gateway-to-Gateway IPSec VPN Tunnels
10,000
Client-to-Gateway IPSec VPN Tunnels
50,000
SSL VPN Throughput
4 Gbps
Concurrent SSL-VPN Users (recommended Max)
10,000
IPS Throughput
11 Gbps
Antivirus Throughput (Proxy Based / Flow Based)
4.3 / 13 Gbps
Virtual Domains (Default / Max)
10 / 250
Max Number of FortiAPs (Total / Tunnel)
4,096 / 1,024
Max Number of FortiTokens
5,000
Max Number of Registered Endpoints
8,000
High Availability Configurations
Active-Active, Active-Passive, Clustering
Dimensions & Power
Height x Width x Length
3.5 x 17.24 x 21.81 in (89 x 438 x 554 mm)
Weight
32.5 lbs (14.7 kg)
Form Factor
Rack Mount, 2 RU
AC Power Supply
100-240 VAC, 47-63 Hz
Max Current
110V / 8A, 220V / 4A
Power Consumption (Avg / Max)
338 / 406 W
Heat Dissipation
1,385 BTU/h
Redundant Power Supplies
Yes, Hot swappable
Operating Environment & Certifications
Operating Temperature
32 – 104 deg F (0 – 40 deg C)
Storage Temperature
-31 – 158 deg F (-35 – 70 deg C)
Humidity
20 to 90% non-condensing
Operating Altitude
Up to 7,400 ft (2,250 m)
Compliance
FCC Part 15 Class A, C-Tick, VCCI, CE, UL /cUL, CB
Certifications
ICSA Labs: Firewall, IPSec, IPS, Antivirus, SSL VPN
Note: All performance values are "up to" and vary depending on system configuration. Antivirus performance is measured using 44 Kbyte HTTP files. IPS performance is measured using 1 Mbyte HTTP files.