Overview:
FortiGate 5000 series chassis-based security systems use highly-flexible AdvancedTCA™ (ATCA)-compliant architecture that enable the FortiGate 5000 series to protect complex, multi-tenant cloud-based security-as-a-service and infrastructure-as-a-service environments. Purpose-built by Fortinet, the FortiGate 5000 series integrates modular carrier-class hardware components with advanced FortiASIC™ acceleration and consolidated security from the FortiOS™ operating system.
Consolidated Security Solutions
FortiGate 5000 series appliances give you the ability to deploy a wide range of Fortinet's UTM inspection capabilities, including firewall, IPS, application control, VPN, and web filtering. These features can be scaled as required by adding more security blades. Each system also supports FortiGuard® security subscription services to deliver dynamic, automated updates and ensure up-to-date protection against sophisticated threats. In addition, the devices support a web-based GUI, 'single pane of glass' management console, and on-board reporting.
By consolidating multiple security enforcement technologies into a single system, the FortiGate 5000 series eliminate disparate hardware devices and software solutions, greatly simplifying security gateway implementation and reducing total cost of ownership.
Highly Scalable, Flexible and Unmatched Performance
Ideal for high-speed service provider, large enterprise or telecommunications carrier network.
Security blades that are powered by FortiASICs that provide outstanding Firewall, VPN and UTM performance.
Runs on FortiOS 5 — the most powerful security operating system in the world.
Backed by world class technical support and threat research team.
| | |
| --- | --- |
| Unmatched Performance and Security | ASICs powered security blades with industry's validated security OS deliver outstanding capability for massive networks. |
| Highly Scalable | Chassis system that allows organizations to add capability when needed. |
| High Speed Interfaces | Keeping pace with today's network infrastructure and demands with high density 40 Gbps and 10 Gbps connectivity. |
Architecture: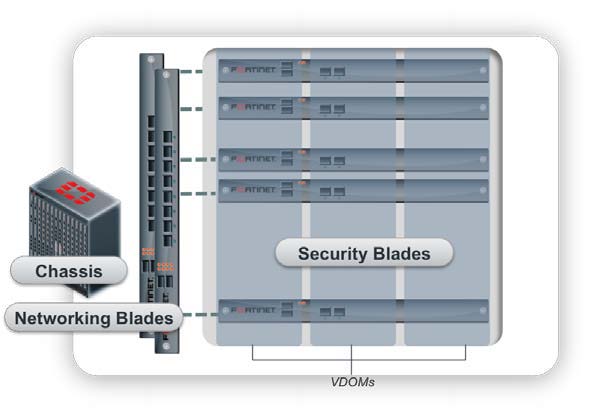 Flexible and Scalable
Chassis and blades systems that can be configured for various resiliency and network requirements.
Security blades can be added as demand grows.
Ease of maintenance and minimum disruption with hot swappable components
Chassis
The chassis enables the flexible system to scale effortlessly and with little disruptions by allowing hot swapped blades to be added according to desired requirements. The system can also be configured for various resilience designs within the chassis as well as between chassis. The rack mount ATCA chassis provides centralized and redundant power supplies to its blades. With exception of the FortiGate 5020, the chassis may be powered by either DC or AC with additional power interface. It facilitates backplane communications between the blades which may be used for HA heartbeat and other control and data communications.
The FortiGate 5060, FortiGate 5140B and FortiGate 5144C may house shelf managers that control chassis power allocation, monitor chassis operating parameters, monitor and control chassis cooling, and can signal alerts via alarm module if the chassis encounters problems.
Security Blades
High performance, ASICs powered security blades run on FortiOS or FortiCarrier which apply access policies and security profiles on the traffic they received from the networking blades via backplane or front panel interfaces. These blades may operate in NAT/route and/or transparent mode. They also support virtual systems (VDOMs) within the cluster.
Networking Blades
Up to two networking blades may be installed on a FortiGate 5060, FortiGate 5140B and FortiGate 5144C on designated slots. These blades connect the system to the network while connected to the multiple security blades via the chassis's backplane. The networking blade clusters the security blades with traffic distribution. Networking blades can assign security blades into service groups which are isolated clusters coexisting in a single chassis. Two networking blades may either operate as activepassive HA or separately with its own clusters.
Deployment:
Next Generation Perimeter Security
Firewalls alone aren't enough to block today's blended threats and attacks. Data centers require multi-layered security technologies that examine entire packet flows, from content inspection through reassembly, stopping threats at the perimeter. The FortiGate 5000 series offers this critical functionality without compromising performance and scalability.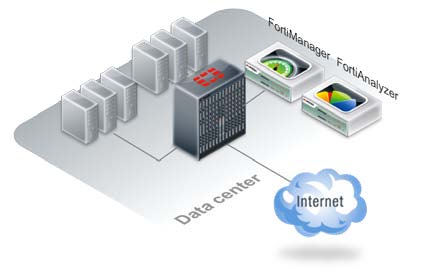 MSSP Core Security
The FortiGate 5000 series delivers comprehensive security for Managed Security Service Providers (MSSPs). The full suite of ASIC-accelerated security modules allows for customizable features for specific customers, while virtualization features like Virtual Domains (VDOMs) provide up to 6,000 separate security domains. Finally, the full suite of Fortinet integrated management applications — including granular reporting features — offer unprecedented visibility into the security posture of customers while identifying their highest risks.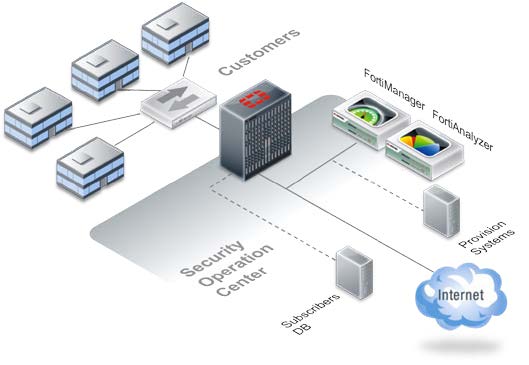 Carrier-Graded Security
The ATCA chassis and components of the FortiGate 5000 series are ideal for telecommunication operators and service providers with standard-based assurance for reliability and robustness. Its unbeatable high capacity is essential as data networks continue to grow rapidly in the near future.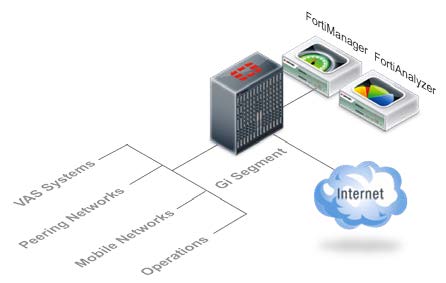 Chassis:
FortiGate 5020
Compact 4U chassis that contains two redundant AC power modules and can install one or two FortiGate 5000 security blades.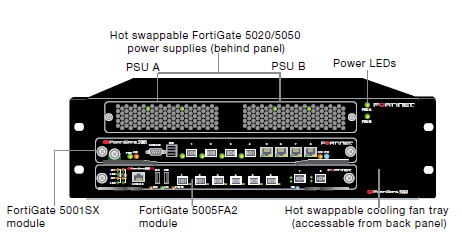 FortiGate 5060
Mid-sized 5U 19-inch rack mount ATCA chassis that contains two redundant hot swappable DC Power Entry Modules (PEMs) and can install up to six FortiGate 5000 series blades.
FortiGate 5140B
13U 19-inch rack mount ATCA chassis that contains two redundant hot swappable DC Power Entry Modules (PEMs) and can install up to 14 FortiGate 5000 series blades. It also includes four hot swappable front pluggable cooling fan trays.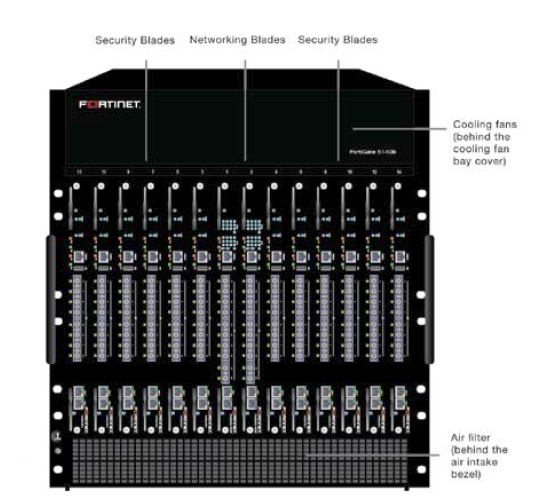 FortiGate 5144C
Next Generation 13U 19-inch rack mount ATCA chassis with 40 Gbps Backplane and capable of Dual-Dual-Star topology. It can install up to 14 FortiGate 5000 series blades.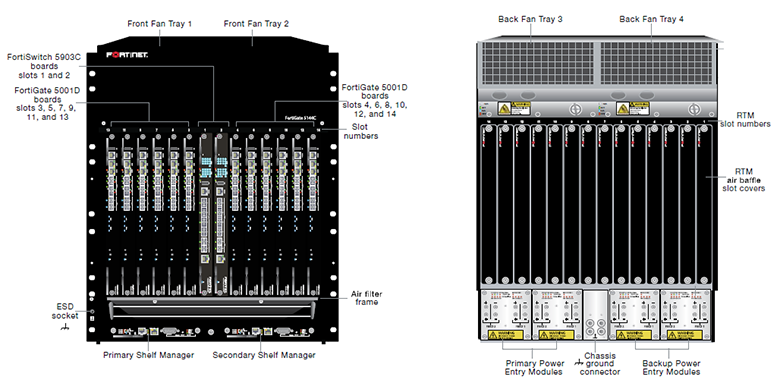 AdvancedTCA™ (ATCA)-compliant Chassis
Based on industry's conforming standards assuring carrier-grade performance, reliability, 99.999% availability and serviceability.
Redundant fans, power modules and self managers and alarm modules options.*
Highly scalable with minimum service disruptions as hot swapped blades may be added to increase capacity with ease.
Comprehensive management and monitoring facilities via shelf managers and alarm modules.**
* Available options depending on chassis models *
* Available on 5060 and 5140B
Blades:
Security Blades
FortiGate 5001B
Security blade ideal for basic firewalling using NP4.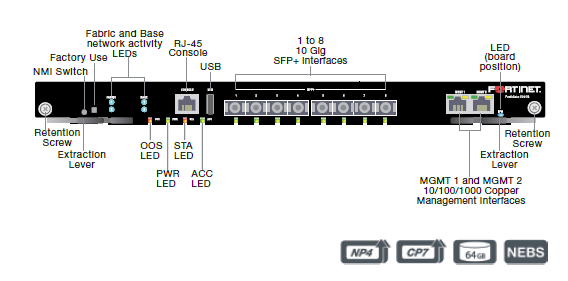 FortiGate 5001C
Security blade that is powered by CP8 and NP4 for superior firewall and UTM performance.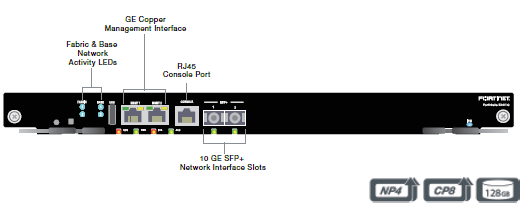 FortiGate 5101C
Powered by FortiASIC SP3 to provide unmatched UTM and IPv6 Firewall Performance, most ideal for next generation networks.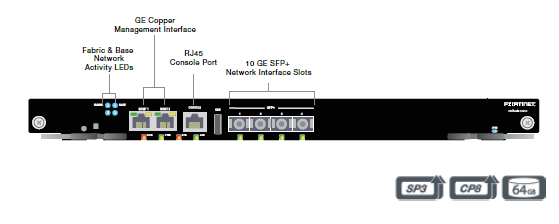 FortiGate 5001D
Latest purpose-built FortiGate security blade with carrier-class capacity and protection.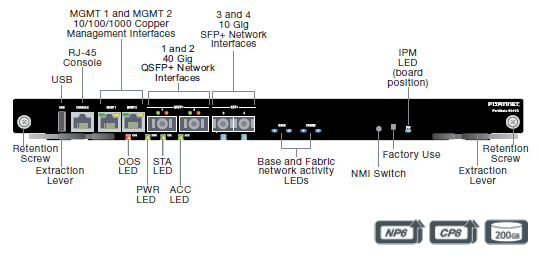 FortiSwitch 5203B
Flexible security blade that provides investment protection by transforming into a networking blade when scalability is required.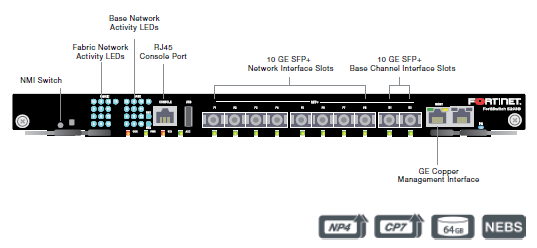 Powered by FortiASIC
FortiGate® consolidated security appliances are purpose-built to provide essential security technologies for your network. Powered by FortiASIC custom processors, FortiGate platforms deliver unmatched cost/performance for any size network.
Content Processor: Accelerate computationally intensive tasks
Accelerates packet content matching with signatures
High performance VPN bulk data engine
Key Exchange Processor support high performance IKE and RSA computation
Message authentication module offers high performance cryptographic engine, used by applications such as WAN optimization and SSL Inspection
Network Processor: The heart of low latency and high performance traffic processing
Supports firewall acceleration with large capacity, including multicast traffic
Provides IPsec ESP encryption/decryption processing at blazing speed
Scale firewall throughput independent of packet size
Operates at the interface level to provide an ultra low latency performance
Up to 10 million sessions of searching and dynamic network address translation (DNAT)
Security Processor
Offload CPU for firewall, VPN and flow-based UTM processing
Accelerates IPv6 Firewalling
Networking Blade
FortiSwitch 5003B
Basic L2 switching blade for aggregating security blades within a chassis.

FortiSwitch 5203B
Flexible networking blade that can either operate as a standalone full featured FortiGate or in content cluster mode, as a FortiGate unit (weighted) load balancing traffic to one or more security blades.

FortiController 5103B
As a high capacity stateful load balancer, this networking blade distributes sessions to multiple FortiGate security blades using state of the art FortiASIC TP acceleration.

Software Features: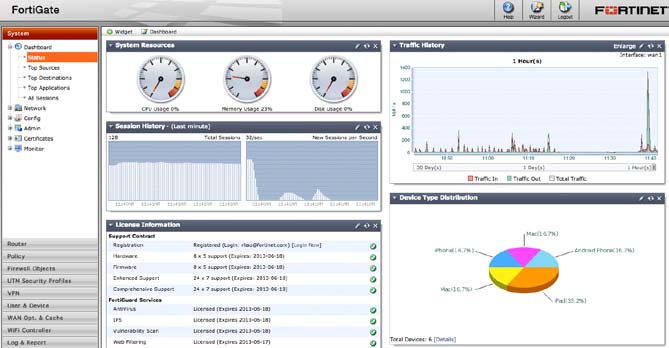 FortiOS Dashboard — Single Pane of Glass Management
Proven with Industry Validation
FortiGate received the most industry's certifications among its competitions, assuring top-notch feature quality to provide you with air tight security and best-of-breed security protection.
Unique Visibility and Control
FortiOS allows greater traffic visibility and more consistent, granular control over users, devices, applications and sensitive data. Dashboard widgets allow administrators to quickly view and understand real-time network activities and threat situations.
Ease of Use
FortiOS lowers operation costs and reduces IT staff workloads. Physical or virtual FortiGate appliances give you the flexibility to match your security to your environment while enforcing a uniform security policy. Single pane of glass management and centralized analysis ensure consistent policy creation and enforcement while minimizing deployment and configuration challenges.
Comprehensive Systems Integration
Integration with external systems is possible with wide range of interfacing protocol support and certified solution partners. Network operators can rely on facilities such as SNMP, sFlow and syslog for monitoring purposes. Integration with provisioning systems and custom portals are also possible with Web Service APIs via FortiManager. Scripting using various scripting languages is also supported by manipulating CLI commands.
Robust Virtual Systems
FortiOS Virtual Domains (VDOMs) is a proven method of dividing a FortiGate unit/cluster into two or more virtual units that function as multiple independent units. It has the industry's most comprehensive virtualization capabilities that meet today's complex MSSP deployments.
Extensive Network Support
FortiOS supports numerous network design requirements and interops with other networking devices. This includes support for a wealth of routing, multicasting and network resiliency protocols. Administrators can also configure interfaces for VLANs, VLAN trucks, port aggregation and one-arm sniffer mode.
Identity-Centric Enforcement
FortiOS supports both local and remote authentication services such as LDAP, RADIUS and TACACS+ to identify users and apply appropriate access policies and security profiles accordingly. It may also simplify identitybased implementations and also provide seamless users authorization experience with various single sign-on capabilities. One such application is to retrieve subscriber's information via RADIUS accounting messages and apply appropriate security services dynamically for a managed service provider.
FortiOS has strong PKI and certificate-based authentication services and also integrates an internal two-factor token server for additional security.
Superior IPS Capabilities
The FortiGuard IPS subscription service provides FortiGate customers with the latest defenses against stealthy networklevel threats. With signatures of more than 4000 known threats, it enables FortiGate to stop attacks that evade conventional firewall defenses. It also provides behavior-based heuristics, enabling the system to recognize threats for which no signature has yet been developed.
Powerful Policy Management
It is common in service provider and data center networks to have hundreds, if not thousands of security policies, hence to be able to manage these policies effectively is critical to minimize configuration errors and complexity. FortiOS has the unique ability to provide two forms of policy management views — Global and Section view helps administrators to choose an option that they are most familiar with or suit their requirements best. It also provides powerful features such as policy object search, tagging, sorting and filtering. Policy objects can easily be edited from the policy table.
With FortiManager integration, customers may also have the ability to setup sophisticated policy implementation and provisioning workflows for compliance or operation requirements. Detailed configuration audit trail is supported and can reside externally for secured storage with FortiAnalyzer.
Flexible Role-based Administration
Access profiles can be defined to provide granular access to VDOMs and system functionalities. This is valuable in facilitating enterprise-class or complaint security operation workflows.
Broad IPv6 Support
Maintaining security for both IPv4 and IPv6 traffic will be crucial to the success of mixed networks. Malware and network threats are independent of IPv4 or IPv6. FortiOS is able to use IPv6 security policies to provide access control and UTM protection for IPv6 traffic.
FortiOS has been successfully evaluated as compliant with core protocol and interoperability tests defined by IPv6 Ready Logo Phase 2.
More Features with FortiCarrier Software License
MMS Security — MMS AV, bulk Email detection and filtering, MMS Address Translation, DLP archiving
GTP Security — GTP Firewall, protocol anomaly protection, identity filtering, anti-overbilling
Specifications:
 
FortiGate 5020
FortiGate 5060
FortiGate 5140B
FortiGate 5144C
Available Slots
2
6
14
14
High Availability Backplane Fabric
Built-in
Built-in
Built-in
Built-in
40 Gbps Backplane Support
–
–
–
Yes
Shelf Manager (Default / Maximum)
–
1 / 2
1 / 2
1 / 2
Dual Networking Blade Support
No
Yes
Yes
Yes
Height x Width x Length (inches)
5.25 x 17 x 15.5
8.86 x 17.64 x 18.82
22.63 x 19 x 22.6
24.44 x 19.06 x 21.63
Height x Width x Length (cm)
13.3 x 43.2 x 39.4
22 x 44.8 x 47.8
57.5 x 48.3 x 57.4
62.1 x 48.4 x 55.0
Weight
35.5 lb (16.1 kg)
38 (17.3 kg)
84 lb (38 kg)
108 lb (50 kg)
Firewall Throughput
160 Gbps
480 Gbps
1.12 Tbps
1.12 Tbps
Power Required
AC
DC/AC1
DC/AC1
DC/AC1
Chassis Only Power Consumption (Maximum) ***
–
350 W
530 W
960 W
Heat Dissipation (Maximum) ***
–
1194 BTU/h
1808 BTU/h
3,276 BTU/h
Operating Temperature
32–104°F (0–40°C)
41–104°F (5–40°C)
32–104°F (0–40°C)
32–104°F (0–40°C)
Storage Temperature
-13–158°F (-35–70°C)
23–131°F (-5–55°C)
-13–158°F (-35–70°C)
-13–158°F (-35–70°C)
Humidity
5–90% non-condensing
5–85% non-condensing
5–90% non-condensing
5–90% non-condensing
Certifications
FCC Part 15 Class A, C-Tick, VCCI, CE, BSMI, UL/cUL
1 Optional FortiGate 5053B Power Supply Shelf used to provide AC power to the FortiGate
** Based on fully populated FortiGate 5001D
*** Please refer to respective Chassis Guide for computation of total power requirement.
 
FortiGate 5001B
FortiGate 5001C
FortiGate 5101C
FortiGate 5001D
FortiSwitch 5203B*
40 GE QSFP+ Ports
–
–
–
2
–
10 GE SFP+ Ports
8
2
4
2
10
GE RJ45 Ports
2
2
2
2
1
RJ45 Console Port
1
1
1
1
1
Included Transceivers
2x 10 GE SFP+ SR
2x 10 GE SFP+ SR
2x 10 GE SFP+ SR
2x 10 GE SFP+ SR
2x 10 GE SFP+ SR
Local Storage
64 GB
128 GB
64 GB
200 GB
64 GB
Firewall Throughput (1518 / 512 / 64 byte UDP packets)
40 / 40 / 40 Gbps
40 / 40 / 40 Gbps
40 / 40 / 10 Gbps
80 / 80 / 45 Gbps
40 / 40 / 40 Gbps
Firewall Latency (64 byte UDP packets)
4 μs
4 μs
7 μs
3 μs
4 μs
Firewall Throughput (Packets Per Second)
60 Mpps
60 Mpps
15 Mpps
67.5 Mbpps
60 Mpps
Concurrent Sessions (TCP)
20 Mil
29.5 Mil
10 Mil
23 Mil
20 Mil
New Sessions/Sec (TCP)
170,000
210,000
235,000
565,000
170,000
Maximum Firewall Policies
100,000
100,000
100,000
100,000
100,000
IPsec VPN Throughput (512 byte packets)
17 Gbps
17 Gbps
22 Gbps
25 Gbps
17 Gbps
Gateway-to-Gateway IPsec VPN Tunnels
40,000
40,000
40,000
40,000
40,000
Client-to-Gateway IPsec VPN Tunnels
64,000
64,000
64,000
64,000
64,000
SSL-VPN Throughput
1.3 Gbps
3.6 Gbps
1.3 Gbps
6.5 Gbps
1.3 Gbps
Concurrent SSL-VPN Users (Recommended Maximum)
20,000
20,000
25,000
25,000
20,000
IPS Throughput
7.8 Gbps
12 Gbps
9.4 Gbps
18 Gbps
7.8 Gbps
Antivirus Throughput (Proxy Based / Flow Based)
2 / 2.5 Gbps
3 / 4 Gbps
2 / 5 Gbps
5.6 / 13 Gbps
2 / 2.5 Gbps
Virtual Domains (Default / Maximum)
10 / 500
10 / 500
10 / 500
10 / 500
10 / 500
Maximum Number of FortiTokens
5,000
5,000
5,000
5,000
5,000
Maximum Number of FortiAPs
1,024
1,024
1,024
1,024
1,024
Power Consumption (Average / Maximum)
194 / 233 W
187 / 225 W
197 / 236 W
189 / 226 W
210 / 250W
Heat Dissipation (Average)
795 BTU/h
768 BTU/h
805 BTU/h
774 BTU/h
853 BTU/h
Operating Temperature
32–104°F (0–40°C)
32–104°F (0–40°C)
32–104°F (0–40°C)
32–104°F (0–40°C)
32–104°F (0–40°C)
Storage Temperature
-13–158°F (-25–70°C)
-13–158°F (-25–70 °C)
-13–158°F (-25–70°C)
-13–158°F (-25–70°C)
-13–158°F (-25–70°C)
Humidity
20–90% non-condensing
20–90% non-condensing
20–90% non-condensing
20–90% non-condensing
20–90% non-condensing
Certifications
FCC Part 15 Class A, C-Tick, VCCI, CE, UL/cUL, CB, ICSA Labs: Firewall, IPsec, IPS, Antivirus, SSL-VPN
NEBS Certified
Yes
–
–
–
Yes
* Operating in Standalone Mode
Note: All performance values are "up to" and vary depending on system configuration. Antivirus performance is measured using 44 Kbyte HTTP files. IPS performance is measured using 1 Mbyte HTTP files.
 
FortiSwitch 5003B
FortiSwitch 5203B*
FortiController 5103B
Fabric Channel Interfaces
8x 10 GE SFP+
8x 10 GE SFP+
8x 10 GE SFP+
Base Channel Interfaces
2x 10 GE SFP+
2x 10 GE SFP+
2x 10 GE SFP+
Management Interfaces
1x GE RJ45
1x GE RJ45
1x GE RJ45
Included Transceivers
2x 10 GE SFP+ SR
2x 10 GE SFP+ SR
2x 10 GE SFP+ SR
40 GE Backplane Fabric Support
–
–
–
10 GE Backplane Fabric Support
Yes
Yes
Yes
GE Backplane Fabric Support
Yes
Yes
Yes
Max Traffic Throughput
80 Gbps
80 Gbps
60 Gbps
Max Concurrent Sessions
–
20 Mil
110 Million
New Sessions/Sec (TCP)
–
170,000
1.26 Million
Power Consumption (Average / Maximum)
150 / 180 W
210 / 250 W
213 / 255 W
Heat Dissipation
614 BTU/h
853 BTU/h
754 BTU/h
Operating Temperature
32–104°F (0–40°C)
32–104°F (0–40°C)
32–104°F (0–40°C)
Storage Temperature
-13–158°F (-35–70°C)
-13–158°F (-35–70°C)
-13–158°F (-35–70°C)
Humidity
20–90% non-condensing
20–90% non-condensing
20–90% non-condensing
Certifications
FCC Part 15 Class A, C-Tick, VCCI, CE, UL/cUL, CB
*Operating in Distribution Mode
Clustering Options
FortiGate Chassis Platforms Clustering The networking blades, security blades and the chassis together form clusters. This technique load balances network traffic across the cluster, helping to enhance the scalability, reliability, and availability of mission-critical IP-based services, such as firewall, antivirus, web filtering, IPS, and so on. It also provides high availability by detecting host failures and automatically redistributing traffic to the hosts within a chassis. Clustering simplifies large scale security gateway deployment as configuration synchronization and firmware upgrades can be executed automatically within the clusters.
|   | Content Clustering (CC) | Session-aware load Balancing Clustering |
| --- | --- | --- |
| Technology | Modified FortiOS Active-Active HA cluster with Chassis | Intelligent Network load balancing within Chassis |
| Ideal Use Case | Scaling UTM performance for MSSP | High performance CGN and Internet security gateway for Service Provider |
| Configuration Synchronization and Firmware Upgrades | Yes | Yes |
| Session Termination (eg, VPN, Explicit Proxy) | Yes | Yes. On Primary Security Blade |
| Multi-segmentation | Yes | Limited |
| High Availability Setup | Intra Chassis | Inter & Intra Chassis |
| Supported Networking Blades | FSW-5203B | FCTL-5103B |
| Supported Security Blades | FG-5001B, FG-5001C, FG-5101C, FG-5001D | FG-5001B, FG-5001C, FG-5101C, FG-5001D |
AC Power Supplies
FortiGate 5053B and PowerSupplyUnit 5000B The FortiGate 5053B is a 1U 19-inch rack mount power supply shelf with PSU-5000B hot swappable power supplies to convert AC power to DC power and to supply power to a FortiGate 5000 series chassis.
 
Non-redundant
Redundant
5053B with PSU-5000B 
(185–307V AC High Line Input)
2,725 W
5,450 W
8,175 W
10,900 W
2,725 W
5,450 W
8,175 W
5053B with PSU-5000B 
(100–184V AC Low Line Input, North America, Mexico, Japan, etc.)
1,200 W
2,400 W
3,600 W
4,800 W
1,200 W
2,400 W
3,600 W