Overview:
Protect your campus, data center, and internal segments at blazing speeds and with the highest security. Simplicity. Affordability. Ease of deployment. High Performance Threat Protection. Our new 7030E Next Generation Firewall has it all.
The 7030E is the ideal solution for mid-sized and large enterprises faced with deploying greater security protections and compliance while satisfying higher performance demands on their networks. The 7030E, the newest member of Fortinet's next generation chassis firewalls, leverages the latest advancements in Fortinet's hardware and software innovation to deliver the highest performance support for critical security services such as SSL traffic decryption and inspection, intrusion prevention, and threat protection.
With flexible support for high performance network interfaces and two powerful advanced processing modules, the FortiGate 7030E is streamlined and economical, providing protection against sophisticated cyber threats such as ransomware, encrypted malware, zero-day attacks and other forms of malware.
Highlights
Modular security gateway with unparalleled NGFW and threat protection performance
Compact footprint for greener data centers
Available in 2 configurations to suit customer needs and ease of deployment
Support for high density 10G/40G/100G QSFP28 interfaces
Hot swappable components and modules
Upgrade path to the higher end FortiGate 7000 series
Industry leading price/performance and low TCO (total cost of ownership)
Deployment: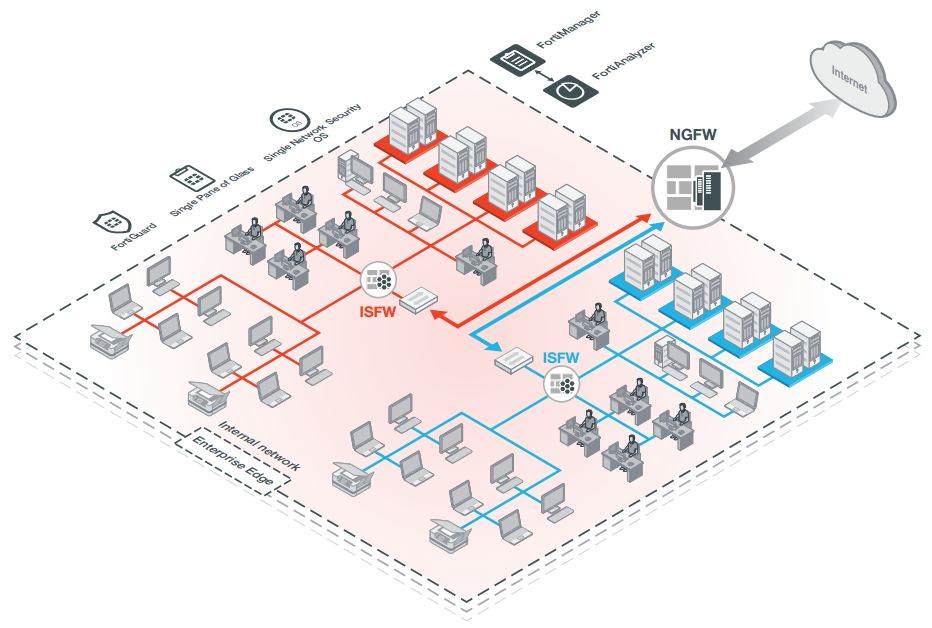 Figure 1: FortiGate 7000 Series deployment in large campus networks (NGFW, ISFW)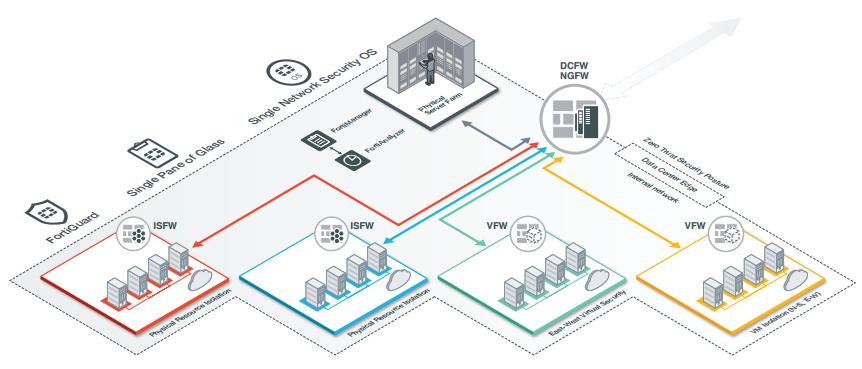 Figure 2: FortiGate 7000 Series deployment in data center (DCFW/NGFW, ISFW)
Next Generation Firewall (NGFW)
Security gateway to the Internet for enterprises.
Enforce security policies with granular control and visibility of users and devices for thousands of discrete applications.
Identify and stop threats with powerful intrusion prevention beyond port and protocol that examines the actual content of your network traffic.
Internal Segmentation Firewall (ISFW)
Segmentation solution for end-to-end protection against threats while meeting compliance requirements.
High port density and accelerated traffic processing capacity, to protect multiple segments without compromising performance.
Deploy transparently and rapidly into existing environments with minimal disruption.
Data Center Firewall (DCFW)
High availability, high throughput and low latency for data center edge and core.
High session scale for accommodating large network and user traffic for internet and cloud facing data centers.
High speed Interfaces for future-proof connectivity while compact size contributes to greener data centers.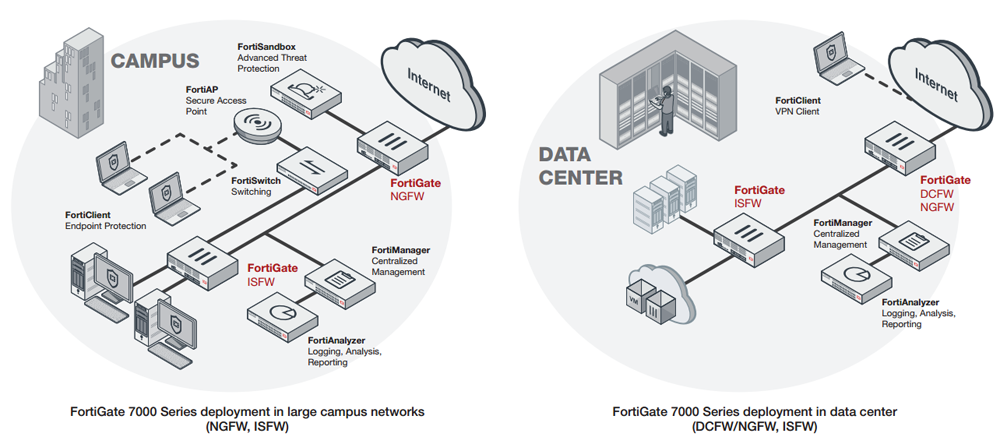 Services:
FortiGuard Security Services
FortiGuard Labs offers real-time intelligence on the threat landscape, delivering comprehensive security updates across the full range of Fortinet's solutions. Comprised of security threat researchers, engineers, and forensic specialists, the team collaborates with the world's leading threat monitoring organizations, other network and security vendors, as well as law enforcement agencies:
Real-time Updates — 24x7x365 Global Operations research security intelligence, distributed via Fortinet Distributed Network to all Fortinet platforms.
Security Research — FortiGuard Labs have discovered over 170 unique zero-day vulnerabilities to date, totaling millions of automated signature updates monthly
Validated Security Intelligence — Based on FortiGuard intelligence, Fortinet's network security platform is tested and validated by the world's leading third-party testing labs and customers globally.
FortiCare Support Services
Our FortiCare customer support team provides global technical support for all Fortinet products. With support staff in the Americas, Europe, Middle East and Asia, FortiCare offers services to meet the needs of enterprises of all sizes:
Enhanced Support — For customers who need support during local business hours only.
Comprehensive Support — For customers who need around- the-clock mission critical support, including advanced exchange hardware replacement.
Advanced Services — For global or regional customers who need an assigned Technical Account Manager, enhanced service level agreements, extended software support, priority escalation, on-site visits and more.
Professional Services — For customers with more complex security implementations that require architecture and design services, implementation and deployment services, operational services and more.
FortiCare 360° — For customers who want assistance with ongoing monitoring and operational risk reduction, including recurring health checks, personalized monthly audit reports and more.
Enterprise Bundle
FortiGuard Labs delivers a number of security intelligence services to augment the FortiGate firewall platform. You can easily optimize the protection capabilities of your FortiGate with the FortiGuard Enterprise Bundle. This bundle contains the full set of FortiGuard security services plus FortiCare service and support offering the most flexibility and broadest range of protection all in one package.
Software:
FortiOS
Control all the security and networking capabilities across the entire FortiGate platform with one intuitive operating system. Reduce operating expenses and save time with a truly consolidated next generation security platform.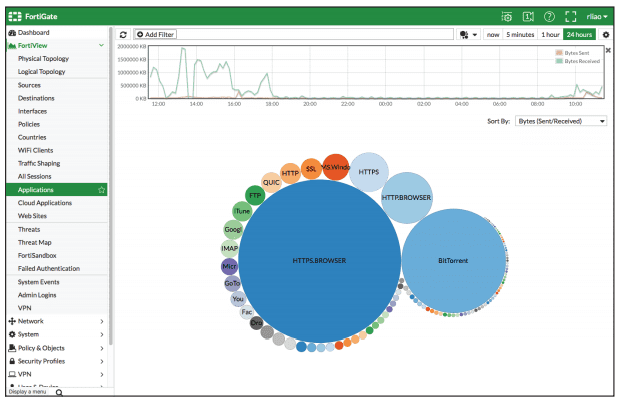 A truly consolidated platform with one OS for all security and networking services for all FortiGate platforms.
Industry-leading protection: NSS Labs Recommended, VB100, AV Comparatives and ICSA validated security and performance.
Control thousands of applications, block the latest exploits, and filter web traffic based on millions of real-time URL ratings.
Detect, contain and block advanced attacks automatically in minutes with integrated advanced threat protection framework.
Solve your networking needs with extensive routing, switching, WiFi, LAN and WAN capabilities.
Activate all the ASIC-boosted capabilities you need on the fastest firewall platform available.
Modules:
Fortinet Processor Module 7620E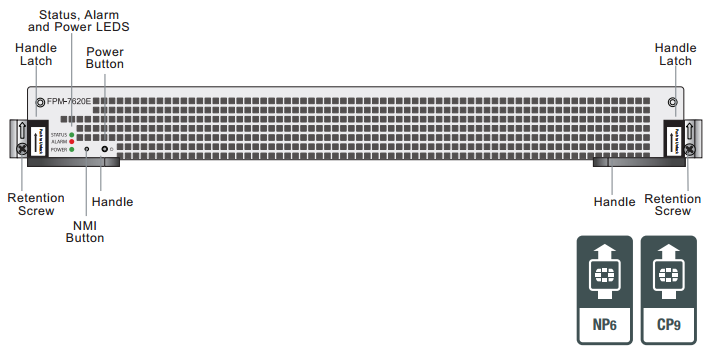 Latest purpose-built SPU CP9 accelerated processor module with superior content processing throughput and protection. Runs on FortiOS 5 — the most powerful security operating system in the world.
FPM-7620E
Power Consumption (Average / Maximum)
320 / 410 W
Heat Dissipation (Average)
1,395 BTU/h
Operating Temperature
32–104°F (0–40°C)
Storage Temperature
-13–158°F (-25–70°C)
Humidity
20–90% non-condensing
Certifications
FCC, ICES, CE, RCM, VCCI, BSMI, UL/cUL, CB
NEBS Certified
—
---
Fortinet Interface Module 7901E

High performance, SPU DP2 accelerated networking blade with 32x GE/10 GE SFP/+ slots.
FIM-7901E
Network Interfaces
32x GE/10 GE SFP/+
Base Channel Interfaces
2x 10 GE SFP+
Management Interfaces
4x GE RJ45
Included Transceivers
2x SFP+ SR
Power Consumption (Average / Maximum)
260 / 450 W
Heat Dissipation
1531 BTU/h
Operating Temperature
32–104°F (0–40°C)
Storage Temperature
-13–158°F (-25–70°C)
Humidity
20–90% non-condensing
Certifications
FCC, ICES, CE, RCM, VCCI, BSMI, UL/cUL, CB
NEBS Certified
—
---
Fortinet Interface Module 7920E

High performance, SPU DP2 accelerated networking blade with 4x 100 GE QSFP28 slots.
FIM-7920E
Network Interfaces
4x 100 GE QSFP28
Base Channel Interfaces
2x 10 GE SFP+
Management Interfaces
4x GE RJ45
Included Transceivers
2x SFP+ SR
Power Consumption (Average / Maximum)
410 / 460 W
Heat Dissipation
1565 BTU/h
Operating Temperature
32–104°F (0–40°C)
Storage Temperature
-31 to 158°F (-35 to 70°C)
Humidity
10% to 90% (Non-condensing)
Certifications
FCC, ICES, CE, RCM, VCCI, BSMI, UL/cUL, CB