Intel's Xeon E3-1200 v6 family of processors enable the Dell PowerEdge R230 server to accelerate application performance with reliable and worry-free operation. With support for up to 64GB of memory and up to four 3.5-inch drives, this short length server takes up very little space and can help remote offices or small businesses consolidate data for access by other employees.

A single processor is supported by Intel's C236 chipset. Users can choose from a number of different processors from either an Intel E3-1200 v6 CPU, Pentium CPU, Intel Core i3 CPU, or Intel Celeron processors. Given the number of processors choices, users can optimize the server for specific applications.
With its small 1U size it supports up to four 3.5-inch HDD or SSD SAS or SATA storage devices. Users can configure the server to run either 2x 3.5-inch cabled drives, 4x 3.5-inch cabled HDDs, or 4x 3.5-inch hot swap or 2.5-inch or swap drives in a hybrid drive carrier.
There are 4 memory module sockets total with each of the supported processors supporting four memory channels. 4x 16GB DDR4 UDIMM memory modules are supported for a maximum capacity of 64GB. DDR4 memory offers a 50% faster clock speed than the previous generation DDR3 memory modules.
This system has two PCIe 3.0 slots. One is a x16 slots for a full height card and the other is a x8 slots for a low profile PCIe card. Data boost is much more efficient with the Gen 3.0 slots, which offer 2x the data throughput compared to PCIe Gen 2.0.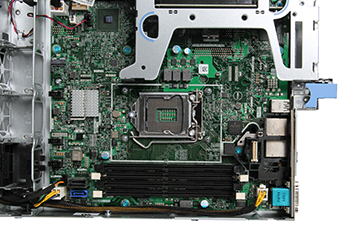 Administrators of the Dell R230 server can reduce maintenance time by up to 92% by automating firmware updates using Repository Manager. Dell's integrated Dell Remote Access Controller, or iDRAC, enables Administrators to easily monitor the system at the chassis or remotely using a standard browser. Dell's OpenManage Essentials console can also help Administrators check the health and abd status of the system.
The Dell PowerEdge R230 server is an excellent option for driving application performance for small businesses or for an enterprise branch or remote office. Compared to the previous generation, the PowerEdge R220, this model has greater memory and storage capacity, plus more I/O slots to help accelerate data throughput. The remote management ability also makes this little server highly attractive for large enterprise businesses as a test server.
Dell PowerEdge R230 Server – Specifications
PROCESSOR – 1 SOCKET
One processor from any of the following families:
Intel Xeon Processor E3-1200 v6 family
Intel Pentium
Intel Core i3
Intel Celeron
OPERATING SYSTEM
Microsoft Windows Server 2016
Microsoft Windows Server 2012
Microsoft Windows Server 2012 R2
Red Hat Enterprise Linux
VMware Vsphere ESXi
SUSE Linux Enterprise Server
MEMORY
Architechture: Up to 2400MT/s DDR4 DIMMs
STORAGE
2.5-inch and 3.5-inch SSDs and HDDs
SAS
SATA
INTERNAL STORAGE BAYS
2 x 3.5″ cabled HDD
4 x 3.5″ cabled HDDD
4 x 3.5″ hot-swap or 2.5″ hot-swap in hybrid drive carrier
STORAGE CONTROLLER
RAID Controllers:
PERC S130
PERC H330
PERC H730
PERC H830
MANAGEABILITY
Systems Management:
IPMI 2.0 compliant
Dell OpenManage Essentials
Dell OpenManage Mobile
Dell OpenManage Power Center
Remote Management:
iDRAC8 with Lifecycle Controller
iDRAC8 Express (default)
iDRAC8 Enterprise (upgrade)
8GB vFlash media (upgrade)
16GB vFlash media (upgrade)
Dell OpenManage Connections:
HP Operations Manager
IBM Tivoli Netcool and CA
Network and Systems Management
Dell OpenManage Plug-in for Oracle Enterprise Manager
Dell OpenManage Integrations:
Dell OpenManage Integration Suite for Microsoft System Center
Dell OpenManage Integration for VMware vCenter
EXPANSION SLOTS
2 x PCIe 3.0 slots: x16, full-height + x8 slot, low profile
I/O PORTS
5 total USB:
2 x USB 3.0 (rear0
2 x USB 2.0 (front)
1 x USB 3.0 (internal)
Communcations port:
2 x 1GbE LOM
CHASSIS
Dimensions: H: 1.67″ (42.8mm)
Dimensions above are without ear or bezel.