The Dell PowerEdge R610 server is an excellent fit for data centers, remote sites, or for space constrained environments. Administrators can start out with just one CPU or purchase with dual processors, depending on your business needs. It has an embedded hypervisor supported by Intel Xeon processors and ample memory and storage to deliver exceptional overall system performance.

The Intel 5520 chipset supports up to two Intel Xeon 5500 or 5600 CPUs with two, four, or six cores each. Power is supplied by either a redundant 502W hot-plug PSU or redundant 717W hot-plug high-output PSUs.
Up to six 2.5-inch drives can be installed and support a maximum of 12TB of storage. Hot pluggable SAS, SATA, and nearline SAS drives are supported. There are several optional internal and external RAID controllers available depending on your needs for performance and resilience. There's also an optional PERC H700 controller with 512MB battery-backed cache offering additional RAID options and better data protection in the event of a power failure.
There are 12 DIMM slots total supporting DDR3 memory modules with transfer speeds of up to 1333MT/s. Up to 192GB of memory can be installed on the Dell R610 rack server using 16GB memory modules in a two-processor configuration. A minimal configuration requires just a single 1GB memory module.
To support additional NICs or HD controllers, the PowerEdge R610 rack server features two PCIe Gen 2.0 slots and a single PCIe Gen 1.0 x4 storage slot used as a dedicated slot for a PERC controller. The dual port embedded Broadcom NetXtreme II NIC features failover support and load balancing. Several optional 1GBe and 10Gbe add-in NICs are also supported. Graphics are handled by an embedded Matrox G200 shared video memory card.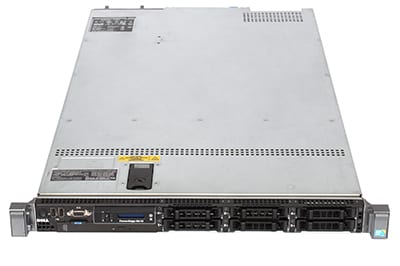 As with all Dell PowerEdge servers, simplified management is included with Dell's embedded OpenManage for on-site systems management and iDRAC6 with Lifecycle Controller. Optional iDRAC Express, or Enterprise is available with the purchase of a license key and grants access to more management tools. The Lifecycle Controller helps Administrators deploy, update, configure, and diagnose errors from a single interface out of band.
Simplified management, multiple redundancies, and a generous compliment of memory and storage makes the Dell PowerEdge R610 rack server a great choice for your data center or SMB. Built-in virtualization and the flexibility to support a wide range of applications are an added bonus.
Dell PowerEdge R610 Server – Specifications
PROCESSOR – 2 SOCKET
Intel® Xeon® processor 5500 and 5600 series
Six-core Intel® Xeon®
Dual-core Intel® Pentium®
Quad-core Intel® Xeon®
OPERATING SYSTEM
Microsoft® Windows Server® 2012
Microsoft Windows® Small Business Server 2011
Microsoft Windows Small Business Server 2008
Microsoft Windows Server 2008 SP2, x86/x64 (x64 includes Hyper-V®)
Microsoft Windows Server 2008 R2 SP1, x64 (includes Hyper-V v2)
Microsoft Windows HPC Server 2008 R2
Novell® SUSE® Linux Enterprise Server
Red Hat® Enterprise Linux®
Virtualization options:
Citrix® XenServer®
Microsoft Hyper-V through Microsoft Windows Server 2008
VMware® vSphere® ESX™ and ESXi™
Red Hat Enterprise Virtualization®
MEMORY
12 DIMM slots: 1GB/2GB/4GB/8GB/16GB
EMBEDDED HYPERVISOR (OPTIONAL)
Citrix XenServer
Microsoft Hyper-V through Microsoft Windows Server 2008
VMware vSphere ESX and ESXi
STORAGE
Hot-plug Hard Drive Options:
2.5" SAS SSD, SATA SSD, SAS (10K, 15K), nearline SAS (7.2K), SATA (7.2K)
Maximum Internal Storage:
DRIVE BAYS
Hot-Swap options available:
Up to six 2.5" SAS, SATA or SSD drives
SLOTS
2 PCIe G2 slots + 1 storage slot:
Two x8 PCIe Gen2 slots
One x4 PCIe Gen1 slot dedicated for the integrated storage controller card
RAID CONTROLLER
Internal:
PERC H200 (6Gb/s)
PERC H700 (6Gb/s) with 512MB battery-backed cache; 512MB, 1GB Non-Volatile battery-backed cache
SAS 6/iR
PERC 6/i with 256MB battery-backed cache
External:
PERC H800 (6Gb/s) with 512MB of battery-backed cache; 512MB, 1GB Non-Volatile battery-backed cache
PERC 6/E with 256MB or 512MB of battery-backed cache
External HBAs (non-RAID):
6Gbps SAS HBA
SAS 5/E HBA
LSI2032 PCIe SCSI HBA
NETWORK CONTROLLER
Two dual port embedded Broadcom® NetXtreme IITM 5709c Gigabit Ethernet NIC with failover and load balancing.
Optional 1GBe and 10GBe add-in NICs
COMMUNICATIONS
Optional add-in NICs:
Dual Port 10GB Enhanced Intel Ethernet Server Adapter X520-DA2 (FcoE Ready for Future Enablement)
Intel PRO/1000 PT Dual Port Server Adapter, Gigabit, Copper, PCI-E x4
Intel PRO/1000 VT Quad Port Server Adapter, Gigabit, Copper, PCI-E x4
Intel 10GBase-T Copper Single Port NIC, PCI-E x8
Intel Single Port Server Adapter, 10Gigabit, SR Optical, PCI-E x8
Broadcom® BMC57710 10Base-T Cooper Single Port NIC, PCI-E x8
Broadcom® BMC5709C IPV6 Gigabit Copper Dual Port NIC with TOE and iSCSI Offload, PCI-E x4
Broadcom® BMC5709C IPV6 Gigabit Copper Dual Port NIC with TOE, PCI-E x4
Broadcom® NetXtreme® II 57711 Dual Port Direct Attach 10Gb Ethernet PCI-Express Network Interface Card with TOE and iSCSI Offload
Intel® Gigabit ET Dual Port Server Adapter
Intel® Gigabit ET Quad Port Server Adapter
Broadcom 10GbE NIC, Broadcom Dual Port 10GbE SFP+
Brocade® CNA Dual-port adapter
Emulex® CNA iSCSI HBA stand up adapter OCE10102-IX-D
Emulex® CNA iSCSI HBA stand up adapter OCE10102-FX-D
Optional add in HBAs:
Qlogic® QLE 2462 FC4 Dual Port 4 Gbps Fiber Channel HBA
Qlogic® QLE 220 FC4 Single Port 4 Gbps Fiber Channel HBA
Qlogic® QLE 2460 FC4 Single Port 4 Gbps Fiber Channel HBA
Qlogic® QLE2562 FC8 Dual-channel HBA, PCI-E Gen 2 x4
Qlogic® QLE2560 FC8 Single-channel HBA, PCI-E Gen 2 x4
Emulex® LPe-1150 FC4 Single Port 4 Gbps Fiber Channel HBA, PCI-E x4
Emulex® LPe-11002 FC4 Dual Port 4 Gbps Fiber Channel HBA, PCI-E x4
Emulex® LPe-12000, FC8 Single Port 4 Gbps Fiber Channel HBA, PCI-E Gen 2 x4
Emulex® LPe-12002, FC8 Dual Port 4 Gbps Fiber Channel HBA, PCI-E Gen 2 x4
Brocade® FC4 and 8 GB HBAs
POWER
Two hot plug high efficient 502w PSU (Energy Smart)
Two hot-plug 717W PSUs (High Output)
AVAILABILITY
Hot-plug hard drives
Hot-plug redundant power
Redundant cooling
ECC memory
Single Device Data Correction (SDDC)
Supports memory demand
Patrol scrubbing
High availability failover cluster
GRAPHICS CARD
Integrated Matrox G200, 8 MB shared video memory
CHASSIS
Width: 48.24cm (18.99") (includes rack latches)
Depth: 77.2cm (30.39") (includes PSU handles and bezel)
Weight (maximum config): 17.69Kgs (39lbs)
MANAGEMENT
Dell™ OpenManage™
Lifecycle Controller
iDRAC6 Enterprise (Optional)
vFlash (Optional)
RACK SUPPORT
ReadyRails™ sliding rails for 4-post Racks:Support tool-less installation in 19" EIA-310-E compliant square or unthreaded round hole 4-post racks including all Dell 42xx & 24xx racks
NOTE: Threaded 4-post racks require the static ReadyRails™ kit or 3rd party conversion kits available through Dell Software & PeripheralsSupport full extension of the system out of the rack to allow serviceability of key internal components
Support optional cable management arm (CMA) except on Dell 4200 & 2400 racks and 3rd party racks that are less than 1m in depth
Rail depth without the CMA: 798 mm (with outer CMA brackets attached), 768 mm (with outer CMA brackets removed)
Rail depth with the CMA: 887 mm
Square-hole rack adjustment range: 692-756 mm
Round-hole rack adjustment range: 678-749 mm
ReadyRails™ static rails for 4-post & 2-post Racks:
Support tool-less installation in 19" EIA-310-E compliant square or unthreaded round hole 4-post racks including all Dell 42xx & 24xx racks
Support tooled installation in 19" EIA-310-E compliant threaded hole 4-post and 2-post racks
Square-hole rack adjustment range: 588-828 mm
Round-hole rack adjustment range: 574-821 mm
Threaded-hole rack adjustment range: 592-846 mm
1U/2U Rail Attachment Brackets