Proven Security
FortiMail appliances and virtual appliances are proven, powerful email security platforms for any size organization — from small businesses to carriers, service providers, and large enterprises. Purpose-built for the most demanding messaging systems, FortiMail appliances employ Fortinet's years of experience in protecting networks against spam, malware, and other message-borne threats.
Intelligent Protection
FortiMail prevents your email systems from becoming threat delivery systems. Its inbound filtering engine blocks spam and malware before it can clog your network and affect users. Its outbound inspection technology prevents other antispam gateways from blacklisting your users by blocking outbound spam and malware, including mobile traffic.
Enforce secure content delivery with FortiMail Identity-Based Encryption (IBE), S/MIME, or TLS email encryption options. Prevent accidental and intentional loss of confidential data using predefined HIPAA, GLBA, SOX or customized dictionaries.
High Performance and Unmatched Flexibility
FortiMail appliances provide high-performance email routing and security by utilizing multiple high-accuracy antispam filters. When coupled with industry leading real-time antivirus and antispyware protection from FortiGuard Services, FortiMail provides you with extremely fast and accurate email security that won't affect end users or delay their communications. FortiMail can be deployed in the cloud or on premises and gateway, inline and server modes in a range of appliance or virtual machine form factors. This flexibility allows you to deploy FortiMail in the mode that best suits your environment.
Advanced Threat Protection
In addition to FortiGuard antivirus, FortiMail supports on-board code emulation to identify and block suspicious files based on their intended behavior. Optional cloud-based or on-premise "sandboxing" provide a full, contained, run-time environment to thwart the highly targeted and tailored attacks that increasingly bypass traditional defenses. Rich threat intelligence, actionable insight and the option to share information with FortiGuard Labs in order to receive automated protection updates help organizations reduce the risk of compromise and breach from such sophisticated attacks.
Comprehensive Email Security
Scalable solution from SME to the largest ISP and carrier networks
Advanced Threat Outbreak Protection methods to protect against new emerging and targeted attacks
Apply Identity-Based Encryption in both push and pull methods
Data Leak Prevention, and Policy- Based Encryption and Archiving enable compliance with SOX, GLBA, HIPAA, PCI DSS
Enforce email and security policies at a granular level
Receive real-time security updates from FortiGuard® Services
Industry leading price/performance
Flexible deployment modes and architectures support the widest range of organizations
Multi-layer threat detection delivers highest level of user protection
Scalable solution delivers long term investment protection
Choose from three modes of deployment — Transparent, Gateway, or Server mode – to meet your specific email security requirements, while minimizing infrastructure changes and service disruptions:
Gateway Mode: Provides inbound and outbound proxy mail transfer agent (MTA) services for existing email gateways. A simple DNS MX record change redirects email to FortiMail for antispam and antivirus scanning. The FortiMail device receives messages, scans for viruses and spam, then relays email to its destination email server for delivery.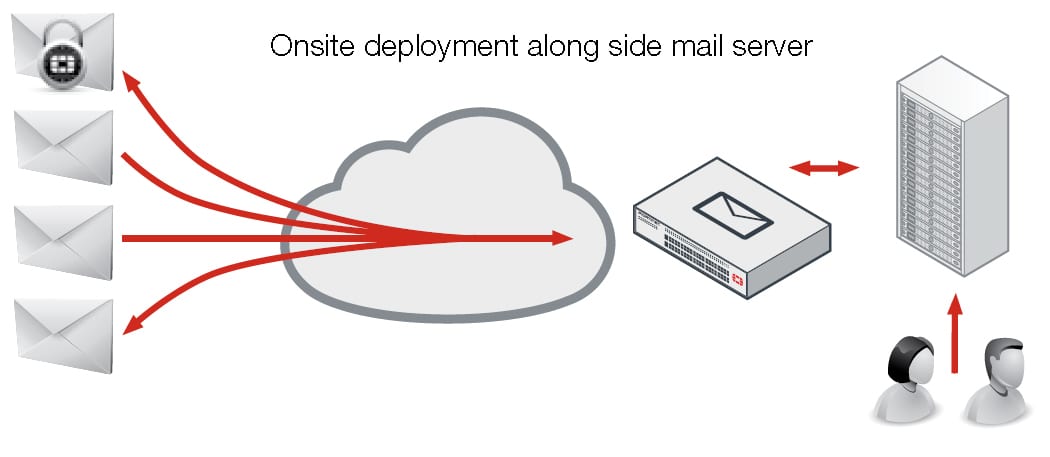 Transparent Mode: Each network interface includes a proxy that receives and relays email. Each proxy can intercept SMTP sessions even though the destination IP address is not the FortiMail appliance. FortiMail scans for viruses and spam, then transmits email to the destination email server for delivery. This eliminates the need to change the DNS MX record, or to change the existing email server network configuration.
Server Mode: The FortiMail device acts as a stand-alone messaging server with full SMTP email server functionality, including flexible support for secure POP3, IMAP and WebMail access. FortiMail scans email for viruses and spam before delivery. As in Server mode, external MTAs connect to FortiMail, allowing it to function as a protected server.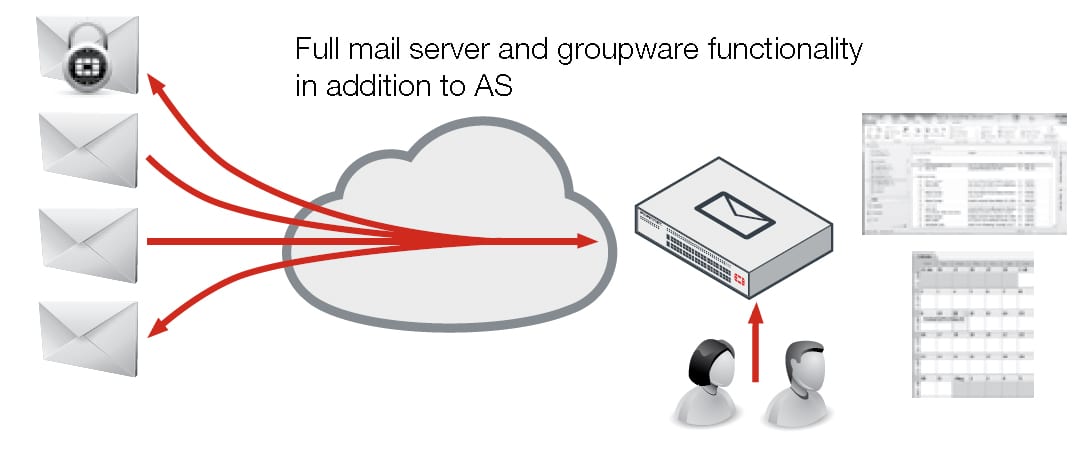 Identity-Based Encryption (IBE) IBE allows FortiMail to deliver confidential and regulated email securely — without requiring additional hardware, software user provisioning, or extra license fees. Use IBE to eliminate paper-based communications and reduce costs.
Policy-Based Encryption: Automatically encrypt messages for compliance, based on content or recipient.
Push or Pull Mode: Use Push, Pull, or a combination of modes to meet your requirements.
Easy to Deploy, Use, and Manage: Deploy IBE in any mode, including Transparent mode, without user provisioning or additional hardware or software.