FortiMail Virtual Appliances deliver proven, powerful messaging security within virtual or cloud infrastructures for any size organization or service provider. Purpose-built for the most demanding messaging systems, the FortiMail-VM utilizes Fortinet's years of experience in protecting networks against spam, malware, and other message-borne threats.
FortiMail Virtual Appliance Features & Benefits:
Advanced inspection capabilities eliminates message-based threats before they can affect your users
No per-user licensing eliminates need to change license as your network grows
Advanced messaging content archiving, quarantining, and routing capabilities help achieve regulatory compliance
FortiGuard subscription services deliver dynamic updates to antispam and antivirus functionality through intelligence gathered by Fortinet's dedicated global threat research team
Eliminates spam before it consumes your messaging system and network resources, reducing the need for additional expenditures to improve messaging performance
Quick-start setup wizard and basic-mode GUI reduce the complexity of deployment and management
Proven Security
The FortiMail family of appliances is a proven, powerful messaging security platform for any size organization, from small businesses to carriers, service providers, and large enterprises. Purpose-built for the most demanding messaging systems, the FortiMail appliances utilize Fortinet's years of experience in protecting networks against spam, malware, and other message-borne threats.
Intelligent Protection
FortiMail prevents your messaging systems from becoming threat delivery systems. Its inbound filtering engine blocks spam and malware before it can clog your network and affect users. Its outbound inspection technology prevents other antispam gateways from blacklisting your users by blocking outbound spam and malware, including mobile traffic. FortiMail dynamic and static user-blocking gives you granular control over all of your email policies and users.
Enforce secure content delivery with FortiMail Identity-Based Encryption (IBE), S/MIME, or TLS email encryption options. Prevent accidental and intentional loss of confidential data using FortiMail predefined or customized dictionaries.
High Performance and Unmatched Flexibility
FortiMail appliances provide high-performance email routing and security by utilizing multiple high-accuracy antispam filters. When coupled with industry leading real-time antivirus and antispyware protection from FortiGuard Services, FortiMail provides you with extremely fast and accurate messaging security that won't affect end users or delay their communications. Deploy messaging security in the mode that best suits your environment and users with FortiMail's unmatched flexibility.
| | |
| --- | --- |
| Deploy appliances or virtual appliances in Transparent, Gateway, or Server modes | All email servers on the market deploy in Server mode, some offering a Gateway mode option. Fortinet is the only vendor to offer Transparent mode, enabling FortiMail to intercept emails without changing DNS MX records, or existing email server network configurations. |
| Apply Identity-Based Encryption in both push and pull methods | Ensures secure delivery of confidential or regulated content. Extremely easy to deploy – no additional hardware or software to install, no user provisioning, no pre-enrollment for recipient. |
| Data Loss Prevention and Compliance | Detect accidental or intentional loss of confidential or regulated data. Achieve PCIDSS or HIPAA compliance by blocking messages containing defined data patterns, or creating policies to enforce encryption of certain emails. |
| Identify and Block Spamming Endpoints | Prevent blacklisting of legitimate subscribers by identifying and blocking endpoints sending spam, including Smart phones. Ideal for Carriers and Service Providers. |
| No per-user or per-mailbox pricing | Complete, multi-layered antivirus, antispam, antispyware and anti-phishing protection for an unlimited number of users. Greatly reduces TCO. |
Choose from three modes of deployment – Transparent, Gateway, or Sever mode – to meet your specific messaging security requirements, while minimizing infrastructure changes and service disruptions:
Gateway Mode: Provides inbound and outbound proxy mail transfer agent (MTA) services for existing email gateways. A simple DNS MX record change redirects email to FortiMail for antispam and antivirus scanning. The FortiMail device receives messages, scans for viruses and spam, then relays email to its destination email server for delivery.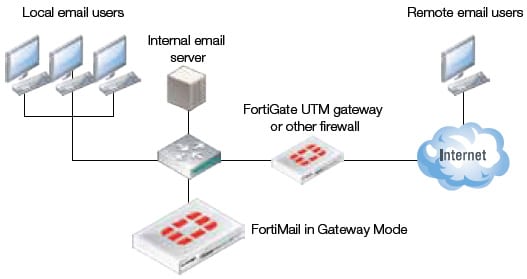 Transparent Mode: Each network interface includes a proxy that receives and relays email. Each proxy can intercept SMTP sessions even though the destination IP address is not the FortiMail appliance. FortiMail scans for viruses and spam, then transmits email to the destination email server for delivery. This eliminates the need to change the DNS MX record, or to change the existing email server network configuration.

Server Mode: The FortiMail device acts as a stand-alone messaging server with full SMTP email server functionality, including flexible support for secure POP3, IMAP and WebMail access. FortiMail scans email for viruses and spam before delivery. As in Server mode, external MTAs connect to FortiMail, allowing it to function as a protected server.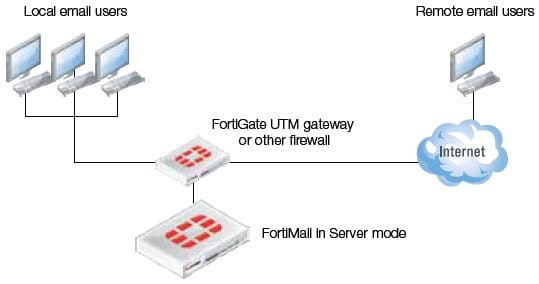 Identity Based Encryption (IBE)
IBE allows FortiMail to deliver confidential and regulated email securely – without requiring additional hardware, software user provisioning, or extra license fees. Use IBE to eliminate paper-based communications and reduce costs.
Policy-Based Encryption: Automatically encrypt messages for compliance, based on content or recipient.
Push or Pull Mode: Use Push, Pull, or a combination of modes to meet your requirements.
Easy to Deploy, Use, and Manage: Deploy IBE in any mode, including Transparent mode, without user provisioning or additional hardware or software.
FortiMail Security Services

Transparent, Gateway and Server Mode Features

Multiple Email Domain Support
High Availability (HA) Support
SMTP Mail Gateway for Existing Email Servers
Integrated Policy-Based Email Routing and Queue Management
Outbound Mail Relay for Improved Mail Security
Granular Layered Detection Policies for Spam and Viruses Addresses, IP Addresses, or Domains
Per User Antivirus and Antispam Scanning Using LDAP Attributes on a Per Policy (Domain) Basis
LDAP-Based Email Routing
Quarantined Message Access with WebMail and POP3
Daily Quarantine Summaries
Policy-Based Archiving of Inbound and Outbound Messages with Backup Support for Remote Storage
Mail Queue Support for Failed, Deferred, and Undeliverable Email
SMTP Authentication Support Through LDAP, RADIUS, POP3 or IMAP
Per User Automatic White List
SNMP Support Using Standard and Private MIB with
Threshold Based Traps
Maintains Local Sender Reputation List Based on:

Number of Viruses Sent
Amount of Spam Sent
Number of Bad Recipients

Dynamic DNS (DDNS)
Greylist Database Persistence
Security Hardened Operating System
Multiple Language Support
Regex Pattern Matching
Sender Policy Framework (SPF)
DomainKeys
DomainKeys Identified Mail (DKIM)
Fragmented Message Blocking
Virtual Host Support Using Pool of IP Address for Source and/or Destination

Denial-Of-Service Protection

Denial of Service (Mail Bombing)
Recipient Address Attack
Email Rate Limiting
Reverse DNS Check (Anti-Spoofing)
Forged Sender Address

Encryption

Identity-based Encryption for Push/Pull Delivery of Encrypted Messages
S/MIME Support for Gateway-to-Gateway Encryption
Support for strong-crypto protocols including HTTPS, SMTPS, SSH, IMAPS and POP3S

High Availability (HA)

Supported in all Modes
Active-Passive Configuration
Quarantine and Mail Queue Synchronization
Stateful Failover
Device Failure Detection and Notification
Link Status Monitor
Link Failover

Management, Logging, and Reporting

QuickStart Setup Wizard
Basic / Advanced Management Modes
Real-time Statistics
Tiered Administration Accounts
Quarantine Search Capability
Automated PDF report scheduling
Configuration Change and Management Event Logging
Antivirus Incident Logging
Antispam Activity Logging
External or Local Syslog Server Support
External or Local Storage Server Support, Including iSCSI devices
Expanded Central Reporting with FortiAnalyzer Support
Critical Events and Virus Incident Alerting
Comprehensive Reporting with Over 140 Reports In Seven Categories
Scheduled Report Generation
Dictionary-triggered Archiving

Antispam – Content Level Detection

Inbound and Outbound Filtering
Extensive Heuristic Spam Filters
Dynamic Heuristic Rule Updates
Attachment/Content Filtering
Deep Email Header Inspection
Bayesian Statistic Filtering
Spam URI Real-Time Blocklists (SURBL)
Banned Word Filtering
Inbound and Outbound Filtering
Spam Quarantining and Spam Tagging
Spam Management (Accept, Relay, Reject or Discard) Based on Email SHASH Spam Checksum Block List
Spam Image Analysis Scanning
PDF Scanning / PDF Image Scanning
FortiGuard Antispam Service
Global and User Customized Black/White Lists
3rd Party Real-Time Black Listed (RBL) Support
Forged IP Checking
Greylist Checking

Antivirus / Antispyware Protection

Virus Scan SMTP Messages
Compressed Attachment and Nested Archive Support
Quarantine Infected Files
Replacement Message Notification
Block by File Type
Attachment Filtering

Server Mode Specific Features

POP3, SMTP, and IMAP Email Services
SMTP over SSL Support
Disk Quota Policy Support for User Accounts
Secure WebMail Client Access
User, Group and Alias List Support
Local Account and LDAP Authentication
Bulk Folder Support for Spam Mail
WebMail Calendar
Email Forwarding Preference
Address Book Synchronize with LDAP
FortiGuard Security Subscription Services
FortiGuard Security Subscription Services deliver dynamic, automated updates for Fortinet products. The Fortinet Global Security Research Team creates these updates to ensure up-to-date protection against sophisticated threats. Subscriptions include antivirus, intrusion prevention, web filtering, antispam, vulnerability and compliance management, application control, and database security services.
FortiCare Support Services
FortiCare Support Services provide global support for all Fortinet products and services. FortiCare support enables your Fortinet products to perform optimally. Support plans start with 8×5 Enhanced Support with "return and replace" hardware replacement or 24×7 Comprehensive Support with advanced replacement. Options include Premium Support, Premium RMA, and Professional Services. All hardware products include a 1-year limited hardware warranty and 90-day limited software warranty.
Technical Specifications for FortiMail Virtual Appliances
VM00
VM01
VM02
VM04
VM08
VM16
VM32
 
Demo, testing, training and small enterprise use with fewer than 100 users*
Small businesses,branch offices, and organizations with fewer than 400 users*
Small to mid sized organizations with up to 1000 users*
Mid to large enterprise with up to 3000 users*
Large enterprise
Large enterprise
Large enterprise
Hypervisors Supported
VMware ESX/ESXi 4.0/4.1/5.0/5.1/5.5/6.0, Citrix XenServer 5.6 SP2/6.0 or later,Microsoft Hyper-V 2008 R2/2012/2012 R2, KVM (qemu 0.12.1), AWS (Amazon Web Services)
Maximum Virtual CPUs Supported
1
1
2
4
8
16
32
Virtual NICs Required (Minimum/Maximum)
1 / 4
1 / 4
1 / 4
1 / 4
1 / 4
1 / 6
1 / 6
Virtual Machine Storage Required
50 GB / 1 TB
50 GB / 1 TB
50 GB / 2 TB
50 GB / 4 TB
50 GB / 8 TB
50 GB / 12 TB
50 GB / 24 TB
(Minimum/Maximum)
 
 
 
 
 
 
 
Virtual Machine Memory Required (Minimum/Maximum)
1 GB / 2 GB
1 GB / 2 GB
1 GB / 4 GB
1 GB / 8 GB
1 GB / 16 GB
2 GB / 128 GB
2 GB / 128 GB
Email Routing 3.6 K
 
34 K
67 K
306 K
675 K
875 K
1.2 M
FortiGuard Antispam 3.1 K
 
30 K
54 K
279 K
630 K
817 K
1.1 M
FortiGuard Antispam + Antivirus 2.7 K
 
26 K
52 K
225 K
585 K
758 K
1.0 M
Configured Domains ***
2
20
100
800
2,000
2,000
2,000
Recipient-Based Policies (Domain / System) — Incoming or Outgoing
15 /30
60 /300
600 / 3,000
1,500 / 7,500
1,500 / 7,500
1,500 / 7,500
1,500 / 7,500
Server Mode Mailboxes
50
150
400
1,500
3,000
3,000
3,000
Antispam, Antivirus, Authentication, and Content Profiles (per Domain / per System)
10 / 15
50 / 60
50 / 200
50 / 600
50 / 600
50 / 600
50 / 600