FortiSwitch Secure Access switches deliver a Secure, Simple, Scalable Ethernet solution with outstanding security, performance and manageability for threat conscious small to mid-sized businesses, distributed enterprises and branch offices. Tightly integrated into the FortiGate® Network Security Platform, the FortiSwitch Secure Access switches can be managed directly from the familiar FortiGate interface. This single pane of glass management provides complete visibility and control of all users and devices on the network, regardless of how they connect.
Add Ruggedized FortiGate for Tough and Powerful Protection
Engineered to survive in hostile environments with an extreme temperature range, the combination of FortiGate Rugged network security appliances with the FortiSwitch Rugged provides a connected network security solution.
Security Fabric Integration
Reduces complexity and decreases management cost with network security functions managed through a single console via FortiGate. This integration allows all users to be authenticated against the same user database, regardless of whether they connect to the wired or wireless network, including temporary guest users.
In addition, same security policy can apply to a user or device regardless of how or where they connect to the network.
Simplify Network Deployment
The Power over Ethernet (PoE) capability in some models, enables simple installation of wireless Access Points and IP phones in the network.
Highlights
Secure Access switches suitable for wiringcloset and desktop installations
Ideal for converged network environments; enabling voice, data and wireless traffic to be delivered across a single network
Devices are identified and users authenticated prior to being granted access to the network
Centralized security and access management from FortiGate interface
Up to 48 ports in a compact 1 RU form factor
Stackable up to 300 switches per FortiGate depending on model
Supports Wire-speed switching and Store and Forward forwarding mode
FortiLink Mode
The FortiSwitch Secure Access Switch series integrates directly into the FortiGate* Connected UTM, with switch administration and access port security managed from the familiar FortiGate interface. Regardless of how users and devices connect to the network, you have complete visibility and control over your network security and access through this single pane of glass, perfectly suited to threatconscious organizations of any size.
Standalone Mode
Virtualization and cloud computing have created dense high-bandwidth Ethernet networking requirements in the data center, pushing the limits of existing data center switching. FortiSwitch Data Center switches meet these challenges by providing a high performance 10 or 40 GE capable switching platform, with a low Total Cost of Ownership. Ideal for Top of Rack server or firewall aggregation applications, as well as enterprise network core or distribution deployments, these switches are purpose-built to meet the needs of today's bandwidth intensive environments.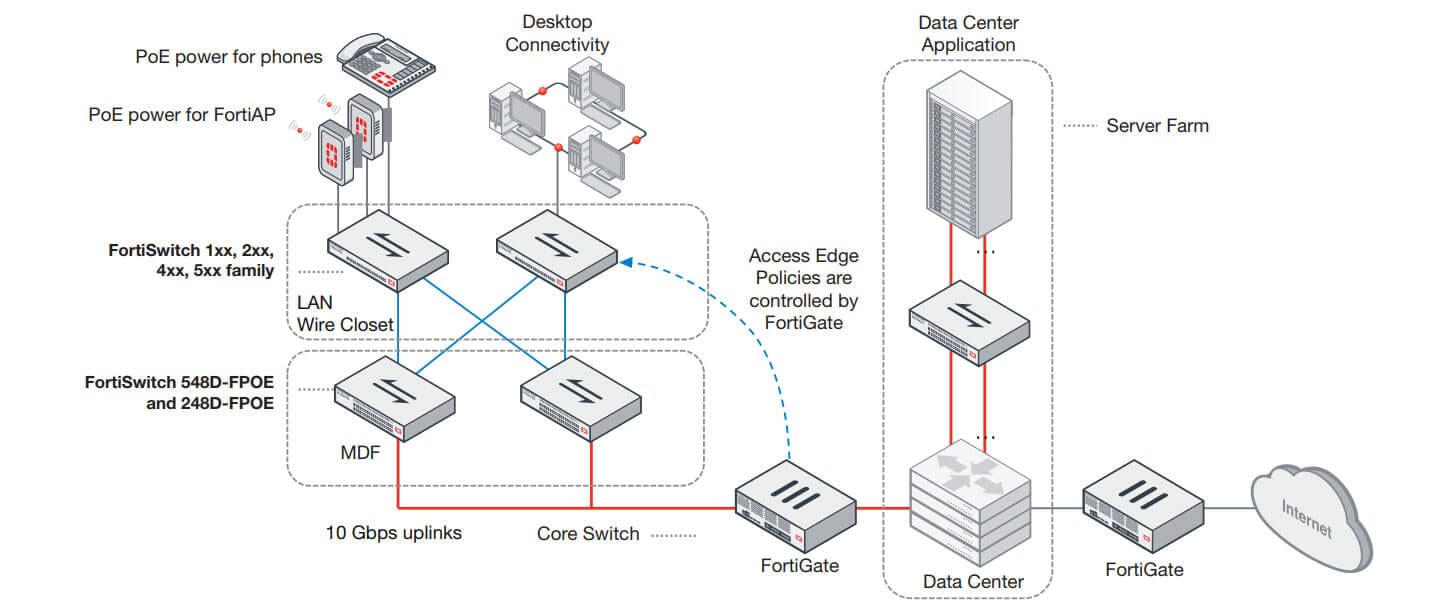 |   | Standalone Switch | Fortilink Mode (FortiGate) |
| --- | --- | --- |
| 802.1x Port Authentication | Yes | Yes |
| MAC Address-Based Authentication | No | Yes |
| MAC Black/White Listing | No | Yes |
| Layer 3,4 Stateful Firewall to Control Access | No | Yes |
| TACACS+/RADIUS Admin Access | Yes | Yes |
| DHCP Relay/DHCP Snooping | No | Yes |
| Virtual Domain | No | Yes |
| Layer 3, Dynamic Routing | No | Yes |
| Inter-VLAN Routing | No | Yes |
| Policy-Based Routing | No | Yes |
| DNS Server | No | Yes |
| Auto Discovery of Multiple Switches | 1 | 16 (model dependent) |
| Software Upgrade of Switches | 1 switch | Central upgrade of each switch |
| VLAN Configuration | 1 switch | Central VLAN provisioning of entire switch network |
| Policy Control of Users and Devices | No | Yes |
| Syslog Collection | Yes | Yes (FortiGate syslog only) |
| Switch POE Control | Yes | Yes |
| LAG support from FortiSwitch to FortiGate | Yes | Yes |
| Firewall | No | Yes |
| IPS, AV, Application Control | No | Yes |
* For -D- models there is a dependency on the software version running on the FortiSwitch and on the FortiGate in order to use FortiLink mode. FortiLink is only enabled on certain ports on FortiGate and FortiSwitch. Refer to FortiLink documentation. Note: Please refer to FortiSwitch Admin Guide for details re: port connections supported for FortiLink functionality.
 
FSR-112D-POE and FSR-124D*
Jumbo Frames
Yes
Auto-negotiation for port speed and duplex
Yes
IEEE 802.1D MAC Bridging/STP (will interoperate)
Yes
IEEE 802.1w Rapid Spanning Tree Protocol (RSTP, will interoperate)
Yes
IEEE 802.1s Multiple Spanning Tree Protocol (MSTP)
Yes
IEEE 802.1p Mapping to Priority Queue
Not supported
Edge Port / Port Fast
Yes
IEEE 802.1Q VLAN Tagging
Yes
Private VLAN
Not supported
IEEE 802.3ad Link Aggregation with LACP
Yes
Unicast/Multicast traffic balance over trunking port
(dst-ip, dst-mac, src-dst-ip, src-dst-mac, src-ip, src-mac)
Yes (MAC only)
IEEE 802.1AX Link Aggregation
Yes
IEEE 802.3x Flow Control and back-pressure
Yes
IEEE 802.3 10Base-T
Yes
IEEE 802.3u 100Base-TX
Yes
IEEE 802.3z 1000Base-SX/LX
Yes
IEEE 802.3ab 1000Base-T
Yes
802.3ae 10 Gigabit Ethernet
Not supported
802.3 CSMA/CD Access Method and Physical Layer Specifications
Yes
IEEE 802.3af-2003/2009 POE
Yes
IEEE 802.3at POE+
Yes
Static Routing (Management Access only)
Yes
Port Mirroring
Yes
Admin Authentication Via RFC 2865 RADIUS
Yes
Supports Fortified Access (FortiLink) mode
Yes
802.1x authentication with port-based assignment
Yes
Telnet / SSH
Yes
HTTP / HTTPS
Yes
SNMP v1/v2c
Yes
SNTP
Yes
LLDP (802.1ab, Link Layer Discovery Protocol) (receive only)
Yes
Standard CLI and web GUI interface
Yes
Software download/upload: TFTP/FTP/GUI
Yes
RFC 2571 Architecture for Describing SNMP Framework
Yes
DHCP Client
Yes
RFC 854 Telnet Server
Yes
RFC 2865 RADIUS
Yes
RFC 1643 Ethernet-like Interface MIB
Yes
RFC 3176 sFlow
Not supported
RFC 1213 MIB-II
Yes
RFC 1354 IP Forwarding Table MIB
Yes
RFC 2572 SNMP Message Processing and Dispatching
Yes
RFC 1573 SNMP MIB II
Yes
RFC 1157 SNMPv1/v2c
Yes
RFC 2030 SNTP
Yes
* Note: Check release notes for software feature availability.
** MIBs have been tested with Solarwinds NPM tool.
 
FSR-112D-POE
FSR-124D
Ethernet interface
8x GE RJ45 (including 8x PoE/PoE+ capable ports), 
4x GE SFP slots
PoE is 802.3 af 
PoE+ is 802.3at
16x GE RJ45,
4x GE SFP slots,
8 shared media interfaces (GE RJ45 / GE SFP slots)
Console interface
DB9 connector
DB9 connector
Operating mode
Store and forward, L2/L3 wire-speed/non-blocking switching engine
Store and forward, L2/L3 wire-speed/non-blocking switching engine
MAC addresses
8K
8K
Speed
10/100/1000 Mbps
10/100/1000 Mbps
MDI/MDIX auto-crossover
Support straight or cross wired cables
Support straight or cross wired cables
Auto-negotiating
10/100/1000 Mbps speed auto-negotiation; 
Full and half duplex
10/100/1000 Mbps speed auto-negotiation; 
Full and half duplex
PoE+ (PSE)
IEEE 802.3at, up to 30 W per RJ45 GE port 
(up to 8 PoE+ ports)
N/A
Port types supported
Gigabit fiber multimode, fiber single mode, fiber long-haul single mode 1000Base(SX/LX/ZX)
Gigabit fiber multimode, fiber single mode, fiber long-haul single mode 1000Base(SX/LX/ZX)
Fiber port connector
LC typically for fiber (depends on module)
LC typically for fiber (depends on module)
Power input
Redundant input terminals
 
Input voltage range
44–57 VDC (for PoE model),
12–57 V (non-PoE model),
44–49 V input voltage can support PoE (802.3af) on all ports,
50–57 V input voltage can support PoE+ (802.3at) on all ports.
44–57V DC
Reverse power protection
Yes
Yes
Switch power
With 8x PoE+ sources, the switch itself draws 10.4 W
25.434 W (Maximum)
Heat dissipation
The switch dissipates 69.6 BTU with 8x PoE+ devices attached
117.49 BTU/h
Power status indication
Indication of power input status
Indication of power input status
PoE indication
PoE port status
N/A
Ethernet port indication
Link and speed
Link and speed
Operating temperature range
-40–167°F (-40–75°C) cold startup at -40°C/°F)
-40–185°F (-40–85°C)
Storage temperature range
-40–185°F (-40–85°C)
-40–185°F (-40–85°C)
Humidity (non-condensing)
5–95% RH
10–95%
EMI
Radiated Emission: CISPR 22, EN55022 Class B 
Conducted Emission: EN55022 Class B
Radiated Emission: CISPR 22, EN55022 Class B
Conducted Emission: EN55022 Class B
EMS
ESD: IEC61000-4-2 
Radiated RF (RS): IEC61000-4-3 
EFT: IEC61000-4-4 
Surge: IEC61000-4-5 
Conducted RF (CS): IEC61000-4-6
ESD: IEC61000-4-2
Radiated RF (RS): IEC61000-4-3
EFT: IEC61000-4-4
Surge: IEC61000-4-5
Conducted RF (CS): IEC61000-4-6
RoHS and WEEE
RoHS (Pb free) and WEEE compliant
Compliant
MTBF
> 30 years
> 30 years
Cooling
Fanless
Fanless
Ingress protection
IP30
IP40
Installation option
DIN-Rail mounting, wall mounting
Rack mount
Length x Width x Height
3.8 x 4.15 x 6.06 inches (96.4 x 105.5 x 154 mm)
17.40 x 13.86 x 1.73 inches (442 x 352 x 44 mm)
Weight
2.7 lbs (1230 g)
12.78 lbs (5.80 kg)
Fortinet warranty
Limited lifetime*
* Fortinet Warranty Policy: http://www.fortinet.com/doc/legal/EULA.pdf